SOLUTION
CyberNet's Cloud Comupting
CyberNet's Cloud computing infrastructure us built to provide our customers with the benefits of quick scale and flexible configurations without having to deal with the inconsistencies that come with usage billing. All of virtual instances are flat rate billed based on the configuration that your team chooses and each instance can be design exactly to your teams specifications.
Most importantly our team looks to always deliver a complete end to end solution, as with all of services, and therefore we include image based back-ups as apart of each virtual instance at no additional charge. With these many unique features we can provide our customers our Unlimited Cloud Computing solution, use as much as you need and still only pay one flat rate.
CyberNet's existing global network can bring our cloud computing solution anywhere you team needs, and we can couple this with our other services to create different cloud computing networks based on your security needs. We have three cloud configuration: Public, Hybrid, and Private; and since we don't charge for IP connectivity into and out of our cloud, your team will not incur additional costs regardless of configuration. CyberNet's ability to perfect meld the its WAN and LAN expertise is one of the great advantages we have of our competitors when design Infrastructure products.
Public Cloud
We understand what it takes to provide your team exceptional voice services, because we have been doing just that for over 25 years. Our unique sensitivity to static and dropped calls make us the perfect fit to provide and manage your voice network. Utilizing our extensive engineering experience we are able to ensure that there isn't a solution out there that we cannot support.
Hybrid Cloud
Our Hybrid cloud is one of the more unique solutions that will help customer segment their private and sensitive traffic through one our of proprietary transport circuits, while still sending other non-sensitive traffic through the Direct Internet Access circuit. This option is great for customer that have multiple offices, but only a handful of them are transporting private information.
Private Cloud
CyberNet's Private Cloud Compute Network is a proprietary solution that allows for you company to be able to build a private custom Intra-Network that would ensure any and all traffic would be 100% secure to any public breach. This solution combines our dedicated global private fiber backbone and our dedicated transport circuits to build and end to end completely Private Cloud Computing Network.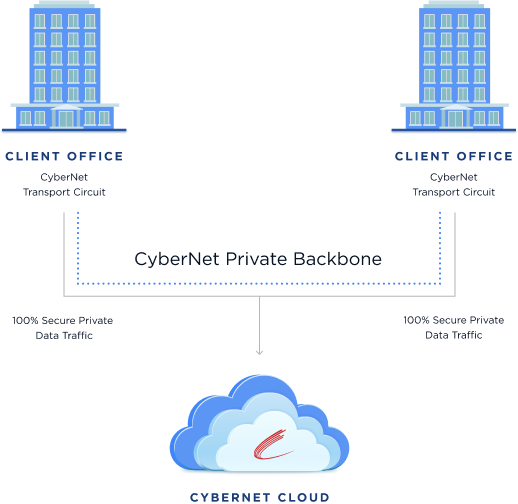 Unlimited Usage
Your team can have unlimited usage without have to worry about additional costs the following month
Custom Virtual Instances
Design each instance as your team needs there are no pre-configured template to fit into
Flexible Configuration
Utilize our WAN expertise to build an ideal Computing Network based of you r teams needs